As I write this, I am at a Starbucks (yeah, even with lockdown and COVID by withstanding, I have been coming to a Starbucks for a week now). I am one of those rare ones to believe that nothing would happen to me. It is 6:42 PM (published at 7:13 PM) and I am going to write for the next 30 minutes. And I do have a thing that I want to write about. Read on.
So, I am one of those people that has extremely good hand-eye coordination. so much so that I can give competition to Po, the greatest Kung-Fu master of all time. Or to those robots that seem to be snatching balls mid-air. Even Jonty Rhodes is nothing compared to me (do see this video of Jonty in action to get a sense of how good I am!).
Once I see a room with my eyes, I can walk in there with a blindfold on my eyes.
Really!
In fact I claim that once I place something on a table with my hands, I am so aware of my surroundings that I can close my eyes and reach out to things that I have placed on the table.
And yet… I have this notorious record of spilling things on my laptop. Thing is, when I write, I like to keep the laptop an arm away, stretch my hands and place my notepad, pen, tea / coffee / coke / water etc between the laptop and the edge of the table.
See this picture.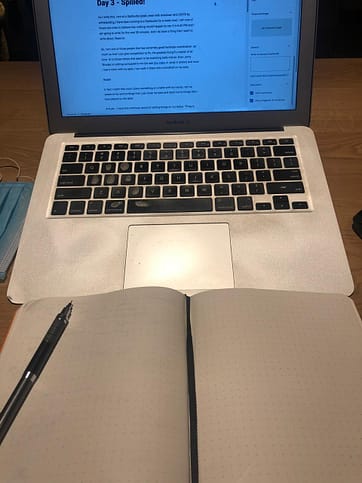 Yeah yeah. I am sure you are worried that I am walking on eggshells and I am inviting disaster every time I even flinch. And I agree. But what is that life that you don't live on the edge of?
And you know what is missing in this picture?
A cup of black tea that I was sipping onto, that I spilled on the table and the notepad and the laptop!
Sigh.
Thing is, most days I am ok with this setup. And most days I don't spill things. But today, I did. At a crowded Starbucks and I had everyone staring at me as if I were a petulant child! Or I was Edward (Scissorhands).
So yeah, that was the achievement of the day. I had no clue that I would write about this but now that I made the mistake of spilling tea, why not make it into an opportunity and talk about it 🙂
And with this, its over and out. See you guys tomorrow!
If you like this, spread the word. Help me get an audience. I know these essays are cool :D. Older posts – 3010, 3110