But I will.
After all, I am on this trip where I am hoping to write every day for 30 days for 30 minutes. Today's the 6th day. On the trot. Yay!
As the entire world awaits the outcome of the US elections with bated breath, here I am, in a corner of Mumbai, thinking about what to write about. While I do have a million things on my mind and I could write about those, there's no one thing that's popping in my head as a clear leader.
So, in absence of anything specific to write about, I will just do a recap of sorts for the day.
9 AM
I started my day with a meeting that got canceled. I was up all night, last night preparing for this meeting!
The spare time I had, I used that to speak to one of the people I talked about in yesterday's post. I sort of "coached" him on productivity and gave him simple tips about how to do things better. The biggest tip I gave him was Paul Graham's Maker Day and Manager Day. In case you don't know about it, go read it. It's worth its weight in gold!
10 AM
The other big thing that happened today is that a friend connected me with one of his friends and wants me to give gyaan on effective notes. Notes is another thing that happened to me just because I wrote a post about it. The post went to a lot of people and some of those implored me to "teach" them the methods. And when I did talk to them about the methods, they seemed to enjoy it!
So, a clear case of how the work you do in public has unintended consequences! The lesson for you? Do more public work!
1 PM
Next, I met a friend for a coffee (and I had green tea) and he gave me dope about, well, me!
He told me things about me that I could not see and yet everyone around me could! You know, things that you don't know that you don't know?
If I talk from the lens of Johari Window, he showed me my Blind Area.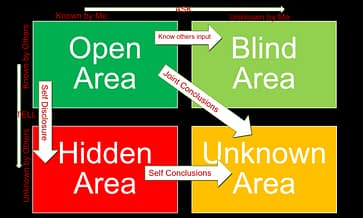 It was quite a revelation. He actually pointed out things that I was clearly unaware of. And these things are deterrents, to say the least. And I need to clearly work on those. I also need to clearly work on not using the same word in three consecutive sentences.
10 PM
Lastly, I just finished a meeting with my writing group. We met via Twitter and we try to help each other with writing.
In fact, this series of posts is actually an outcome of an idea that someone threw at me in the group. No, my notes don't have that person's name. Good that I don't. The kind of writing that am creating, I am so embarrassed!
1137 PM
So yeah, I think this is it for the day.
Again, this is not one of the best posts I've written. But I wanted to get the words out of my system. And I wanted to write for 30 minutes. I think with this summary, I've done both. And that means, its an over and out from me.
Take care!
This is part of the '30 posts in 30 days' project. This was Day 6. Other posts are at 3010, 3110, 0111, 0211, 0311