Super ranty post ahead. Read at peril.
I missed the post yesterday. No, I did not have anything specific to write about. That's a problem that's solved easily – I now have a couple of friends that give me prompts. The larger challenge was that I broke the screen of the laptop that I use. And even when I tried to connect it to a television to try and get some work done, I could simply do nothing on it! More than the post, I missed a couple of deadlines and that is a larger problem IMHO.
Yes, 2020 is being a bitch. Like it is being to everyone.
I broke my iPhone screen the day the lockdown was announced. I had to wait for a few weeks before things could move and I could contact an iPhone Repair shop. But before I could get it restored, I broke it again. I am sick and tired of dropping it so many times. I do not think that I should try to get it repaired anymore.
Coming to the laptop.
The laptop snafu is not new either. First, the laptop charger stopped working. I don't know why or how. May be it was too old? I have had this charger for almost 5 years now. So, I had to get a replacement charger. Then, after a few days, the motherboard crashed. Again, I had to get it repaired. And each of these took time. I mean, you order a charger from the nearest store. It comes after a day or two. Repair normally takes anywhere between 1-3 days, after you identify a reliable person that would not fuck with your data.
And yesterday, in Delhi, the screen broke. Here… this is how it looked like. The blurs on the edges are to hide the embarrassing filenames I have for my work. The wallpaper is of Steve. In case.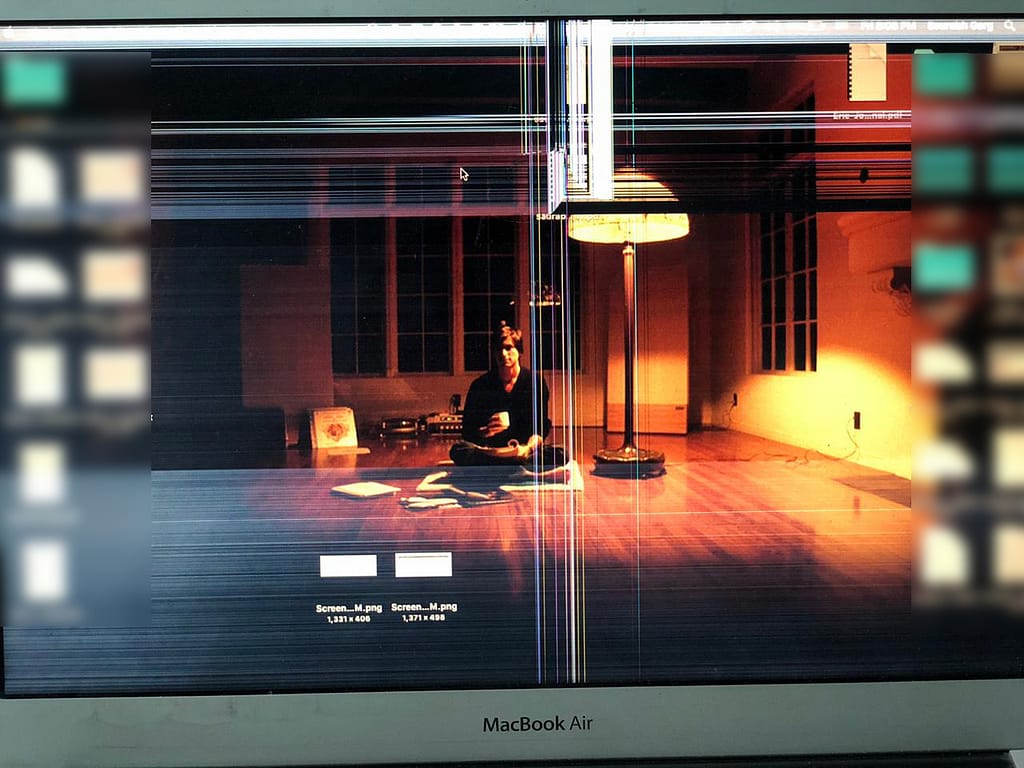 I did get it repaired today. But not before I lost face with two clients and the two deadlines that I had. And I will have to work extra hard over the next 24 hours to first deliver on the work I had promised to deliver yesterday. And then catch-up on what was planned for Sunday (and was to be delivered on Monday).
Damn!
No, not the work. I am ok with work. I actually would not know what to do if I could not work. The shitty part is losing face. I can not afford to lose it!
I think I need to go get checked for the saadhe saati of Shani or something. There is no way it is not upon me. I mean can not think of anyone that's been having so much trouble with simple things like computers and all. Plus, these devices are all Apple and that means they are WAY too expensive to either replace. Or even get repaired.
It's so mind-fuckery-inducing that you are left laughing! Universe, get your fucking act together, bro!
And with that, it's over and out for the night. Have a lot to do.
---
This is part of 30 minutes of writing everyday challenge. I missed yesterday's post. Others in the series are at 3010, 3110, 0111, 0211, 0311, 0411, 0511, 0611, 0911, 1011, 1211, 1311, 1411, 1511, 1611, 1711, 1811, 1911.