6:27.
I've been up for a bit. I slept at around 10 last night. And thanks to all the movement in the house next to mine, I had a fitful sleep. Did I tell you that the walls are wafer-thin here? But I think I feel as rested as I ever could be. There is some soreness in the ankles, claves, and legs – that I think I can blame on all the walking I did yesterday. I will come to it in a bit.
So, I have to say that I've not been myself for the last few days. I think more than anything else, the financial insecurity is eating me alive. Lol. Hyperbole. But yes I am worried about money. I mean I know that in the long run, I will be ok (wait, when exactly is this long-run? I am almost 40 and I have been in this hand-to-mouth state since I was 25). Anyhow, I need to pay salaries in about 10 days and rent in about 15 and I am not sure where would I get that money from. I did not want to take more debt this year and I don't seem to be finding enough work. In fact, more than just worrying, it's also making me into a person that I am not. I am avoiding people. And the ones that I do end up talking to, I am being curt with them. I am faking my emotions a lot more (even though I want to have coherence in my thoughts and actions). I am unable to express my true emotions and I am merely going with the flow. I like being in control (even if it's a fake sense of control) and without the confidence that money gives me, I seem to be losing this ability.
The worse part is no one around me understands what I am going thru. They don't have to, to be honest. They have enough shit in their lives. I am not their priority. This is one of those rare times when I wish I had someone to understand me, be my side, and tell me all will be ok. Maybe that's why this rant on the blog? Am I trying to make this inanimate object, a bunch of pixels on the internet my companion? I think times like these and situations like these make people start believing in God and other cults? Maybe this is that weak point that everyone talks about that comes often in lives?
But then, I know, this too shall pass!
Ok. Hoping it will pass. Moving on.
So yesterday was like any other day. Did some work, slacked some, and then vegetated some. Vegetated as in, merely existed and did not do anything leaves a mark. Did not even talk to the two people I call friends in Goa. I know that I just have 1810 days left before I need to show results on my lofty goals and while the impending deadline inspires me, I am also fucked in the head because of my inability to move the needle. I am not sure what is stopping me. I think I have everything needed to whoop some mad ass and make an impact and get rich in the process. I am no longer lazy (I was till maybe 2017). I work harder, longer, and smarter than most people I know. Of course, I am smart. I have no clue what is that thing missing in my life.
Wait. Could it be the focus? I mean I've always been that person that does multiple things. May be this meandering at multiple places has got me to a place where I have some interesting things under my belt. And maybe to scale from hereon, I need to focus on one thing?
Will think on this during the day and report.
Anyhow. The good thing that happened yesterday was that I walked 20K steps. The plan was to do that on the trot but I took two breaks. Which is ok. I at least walked. From Baga to Fort Aguada and then back. I spend some 30 minutes at the Fort seeing the sun go down and see the day merge with the night. Absolutely loved the time I spent there. Clicked some great (I hope so) pics. Realized my limitations as a photographer. Wish I could be better at it.
Here are a couple of photos for you to gawk at…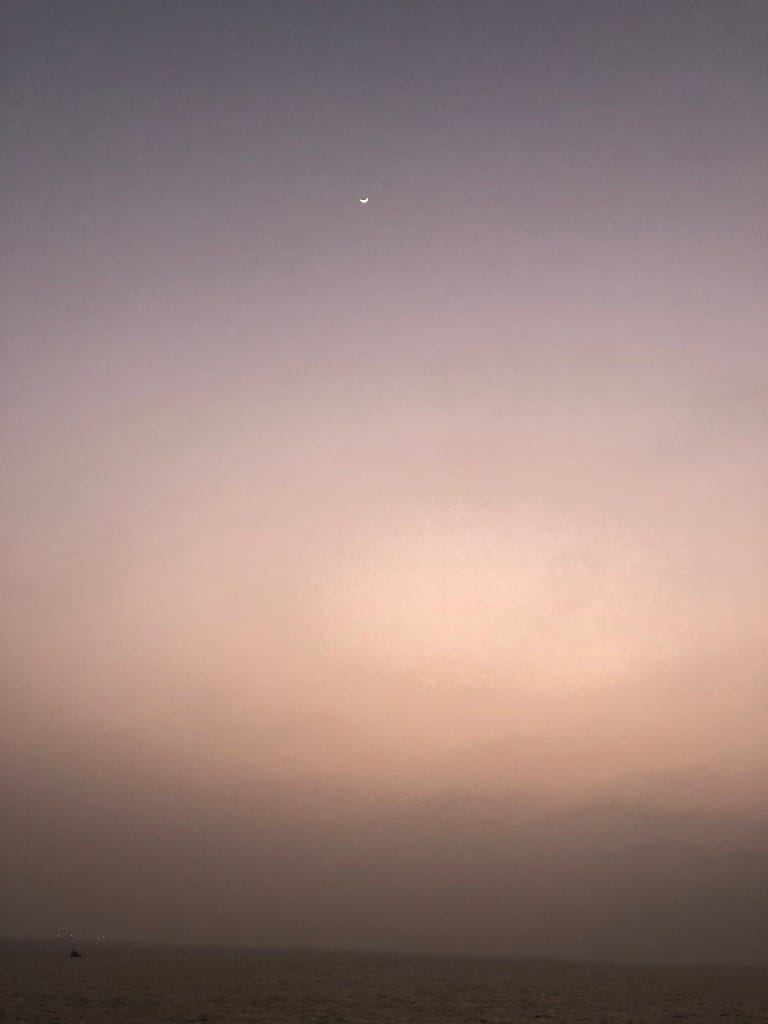 I loved the spot so much that I can see myself going there often to catch the sunset. It's kind of far from where I live (and once I take a house, where I intend to live) I think if I were not a loner, I think this trip to Goa has made me one. Am absolutely ok in my own company now.
Oh, the other crazy thing that happened last night when I was trying to get sleep was a deeper understanding of A R Rahman's music. Because the internet was not working, I put on ARR's Sufi set that is saved on my phone. The set has tracks not just from ARR but others that have adopted the Sufi way of life. And for probably the first time, I could relate to their music, the higher purpose, the bhakti, the effort they put in, and the connection they must feel to that nameless faceless thing that people call God, Universe, higher power, energy, whatever. I could feel how the music for them is not about entertainment. Or about practice. Or money. Or validation. But about respect. A tool they use when they want to feel closer to their creator. The trance they get in when they are one with their creator.
No, I have never felt such a connection with anyone or anything but I could clearly picture them living a life where they are in a complete submission to the almightly. I have to know more. Maybe I will chat with Sowmya one of these days. Maybe when I go back to Mumbai to wrap things.
That's about it I guess. I have a long day today with quite a few things to work on. And a few IRL meetings to squeeze in. I plan to work from Felix for a large part of the day. Let's see if their Internet holds up today. I have to find a solution to this Internet thingy if I have to be in Goa. It's been acting weird since Friday.
Chalo over and out. Hope you guys have a great day. Onto #freewriting for #book2. It's 7:27 and the battery is 6%. Will write till the battery is 1%.
The only complaint that Mrs. Gomes had with tourists that came into Goa is that they did not respect the local traditions. Especially from North India. The ones from the South were a lot more respectful. They probably understood the way of life in smaller communities. But they were far filthier than the ones from the North. It was like choosing a lesser evil and she would take filth over disrespect. So when Chintan first walked into Caravan Serai, Mrs. Gomes looked at him with the default disdain that she had reserved with middle-aged men from north India that wore linen shirts to hide their beer bellies that were bloated all the more with all the butter chicken they had probably eaten.
Chintan looked no different. He would have been smart in his younger days. He was atleast 40 and he still had a head that was full of hair. His hair was better than what most Indian men had and he had a hairband on to pull em back. He carried a leather man-purse that he plopped loudly on the bar counter. The bar was a curious choice. The entire place was empty and most people chose bars as the last option ever. Chintan clearly was unlike most. He pulled a bar stool with his leg and while trying to settle down on it, he got busy pulling out his paraphernalia from the bag that had seen a few years. Without looking up, he continued to fiddle with his things and said to no one in particular, "Could I have a glass of water? Cold, please? And a Gin and Tonic – whatever is your choice. And an ashtray please."
These three lines told Mrs. Gomes that he was going to be an interesting person. He did not fuss about the brand of Gin or Tonic. He wanted his water cold. And he spoke with the authority of a man that knew how to command respect.
He had pulled a stack of loose sheets and was twirling a pencil in his fingers. He looked up to the bar with a questioning gaze at Mrs. Gomes. She took her sweet time to respond to him and said, "On its way. You new here in Goa?"
Mrs. Gomes had to know every patron that walked into Caravan Serai. Even though the place was now much bigger and much in demand, she still liked to run it her way. Basant and Udita often told her often to take it easy and cede control to one of those hospitality management companies that had sprung up. Mrs. Gomes clearly did not think that the two girls made sense. Each time they had this conversation, she would respond by telling them about the promise she made to her father and the legacy of her family, and then she would pace around with an apparent worry about who's run the place once she was gone? She knew she wasn't going away anytime soon. Even though she was 73, she was as lucid as she was when she was 23, could out-work Udita, some 50 years her junior, and keep a sharp eye on her staff of almost 30 people and all the patrons and guests that came and went throughout the day.
***
7:53. 1%. Gotta hit publish.
So that's it for the day. See you guys tom.