8:01. I woke up a few minutes ago. I had slept at around 10 or something. So that's 10 hours of sleep. Solid! I think I needed it cos I did not sleep well the day before. I know that this covering of sleep deficit doesn't count per se but I have been more or less consistent with how I sleep in the last few days.
I was to fast yesterday but I could not. I ended up eating some 20 almonds and chocolate mousse. How will I ever lose weight 🙁 But then, that's the only thing I ate (apart from some buttermilk and no coffee). Thing is, I could have stayed off food but I got bugged and bored, to be honest. And all of you know how it goes when you are bored! More bugged than bored.
Today is an important day. I have an important match to play. On a Ludo board. Against M. She's bet her entire piggy bank against me! Knowing her, even though it's a piggy bank, it would have more money than I can afford but I shall play. Not for money. But for pride 😀 Lol!
Anyhow. So, the thing is, I need to discover new music. I need a change from the same Coke Studios and acoustic versions that I listen to over and over again. Plus Youtube's algorithm doesn't throw new music at me anymore. Can't blame. It must be confused that how can someone like Coke Studio and Restoration Videos and CS plays and reruns of Kapil Sharma! Here's a screenshot from my YT homepage.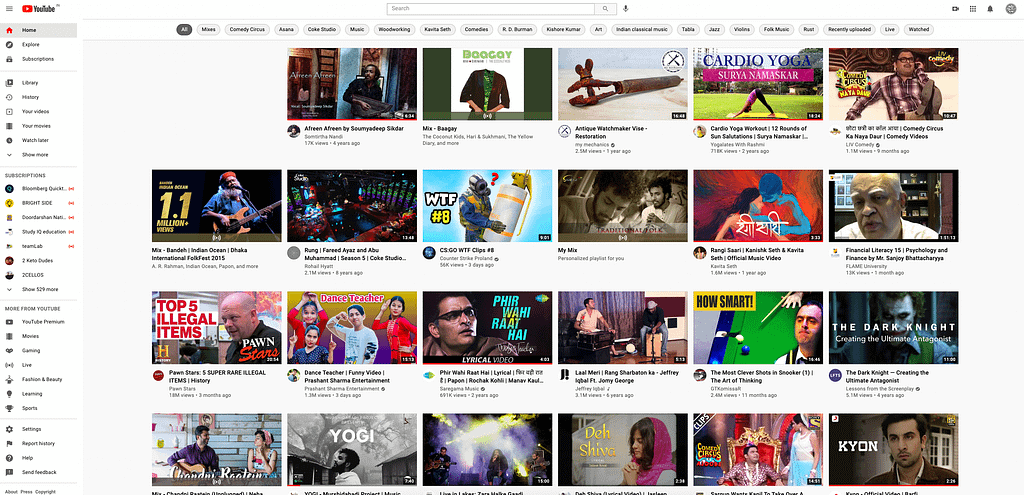 So, I am thinking if I want to move to Spotify and if it's worth listening to ads every 3 tracks? What do you think I can do? How do I find new music that I would like? Help!!!
Guess that's about it for an update. Time to write for book2. For the book2, since everything else has seemed to have failed, I am enrolling for this course on Coursera where I hope I will be consistent enough to create a novel in the next 6 months. I will write this novel in public. In open. Here. On my blog. More or less on these morning pages. Let's see how the experiment goes.
The first exercise is to write a few paragraphs to pitch an idea. Let me write those paragraphs. Here we go…
[Start]
The Caravan Serai is a story of an eponymous watering hole on a secluded beach in the touristy city of Goa that gets embroiled in controversy after a brawl. From there on, more troubles come crashing on the place that otherwise is home to cheerful guests and hospitable locals. To a point that the 80-year old single woman that runs the place and some regular patrons are forced to team up to save the place that's been serving patrons for over 400 years.
On the other side is a local land shark that has been eyeing the Caravan Serai for some time. More than money, his motivation is to teach the old woman a lesson who's refused to sell the Caravan Serai despite his aggressions over the years.
While this cat and mouse chase between the two sides is played out, the readers would learn that there's a lot more to Caravan Serai, as a place. And to the story. This includes incidents and a curse going back 400 years when Goa was still a Portuguese colony and the pirates roamed free in the oceans.
Will the old lady succeed? Or will Caravan Serai fall?
[End]
I posted it here as well, in case. Not my best attempt but I think it does tell the story in its entirety. Last year I had written many more log lines. I will try to gather them around in one place. But this is it for the time being.
So, the next exercise is to write a logline. We all know that a logline is essentially that one sentence that describes your book / film in its entirety. It talks about the plot, the characters, the world in which the project is set, the antagonists, and the stakes.
Wow. That's a lot.
But that's the starting point. The logline becomes a guiding light that helps you get back on track, should you digress.
They say, this is the hardest part about writing a piece of fiction. And yet I am being asked to start from here. But then, commitment kar di, to kar di!
Lemme try writing some.
1. This is the story of jealousy, greed and lust told through the lens of myriad characters spread over 400 years, each trying to fight their own inner demons and seek closure.
2. Two groups of people spar over a famous watering hole in Goa and discover their own dark pasts as a 400-year curse watches over.
3. After a brawl at a bar, a middle-aged man discovers his true purpose in life.
4. A middle-aged man drifts to Goa and stumbles bang in the middle of a brawl that opens up a can of worms that makes him realise his true destiny.
5. A middle-aged man gets embroiled in a brawl and inadvertently sets in motion a chain of events that awakens a 400-year old curse.
6. A 400-year old curse turns two best friends into enemies out to kill each other and in the process, they unleash a string of crimes and murders on the sleepy state of Goa that will not stop till one of them is dead.
I don't know which one would I go ahead with. In fact, probably none. I will revisit this for sure. But for the assignment, I will pick the sixth one (the one that I have highlighted). I like the first one as well. But I think 6th is better.
Ok. That's it for the day.
Need to move along and get started. More tomorrow. Here's streaks…
Morning Pages / Meditations – 167
#aPicADay – 0
10K steps a day – 2
OMAD – 0
#noCoffee – 0
#noCoke – 79
10 mins of meditation – 0
#book2 – 0. Could not write.
Killer Boogie – 0
Surya Namaskar – 1. Did 12 rounds of Surya Namaskar.