6:45 AM. Morning. Let's dive head on. On things that are in my head. In bullet points.
A. Car.
Just woke up and for some reason, I am pining for a car. For some reason, been pining for the last few days years. I know I can't afford one. Not for at least the next few quarters. But the thing is, there's nothing that gives me more pleasure than a drive.
I think I know what's the trigger here. A very old friend that I have sort of lost touch with called and asked if I'd want to drive out to Lonavala. Last I knew, he had a Volkswagen Polo and is among those few that share my love for drives. All these years, VG has been a constant companion for drives but then life happened and the drives dried down. This old friend, when he asked for a drive, like a druggie, I was salivating even before he mentioned Lonavala. I wanted it at that instant. Like now. But the dude asked me for a thing on the weekend. And when the weekend came, he bailed on me. Damn! Imagine you tell a coke-addict that he'd get a lifeline but when he doesn't how would he feel? That! I wanted to scream out loud! It was like someone snatched candy from a kid that wants nothing but that. Like I said, I am the happiest when I am behind a steering wheel and I am on a road. I should've become an uber driver ;P
Unrelated. May be I am pining so much cos a couple of friends bought new cars in the last few days? I dont think so. I am definitely not jealous, rather, happy for them for these step-ups in life.
See this…
B. Aram Nagar
Finally made some progress on the Aram Nagar project. In the week that's gone by, have had a couple of meetings already with Mudit on it. Oh, Mudit is a writer, director and has agreed to come on board and help. We have started to jam and see where it goes. We aim to shoot a few photos next week to see what we get. Idea is to capture the richness of the place that probably has the single largest contribution to the film industry. Let's see how it goes. This is not a major project per se but I would like to see it happen. With Mudit on board, I hope it gets on a fast track.
C. Chess.
I am embarrassed to report that I just can't seem to win anymore at chess. In the last 30 days, I've lost almost every game I've played. No, I don't want to be a grandmaster. And I am very very average. But I don't like the idea of a losing streak.
See this chart…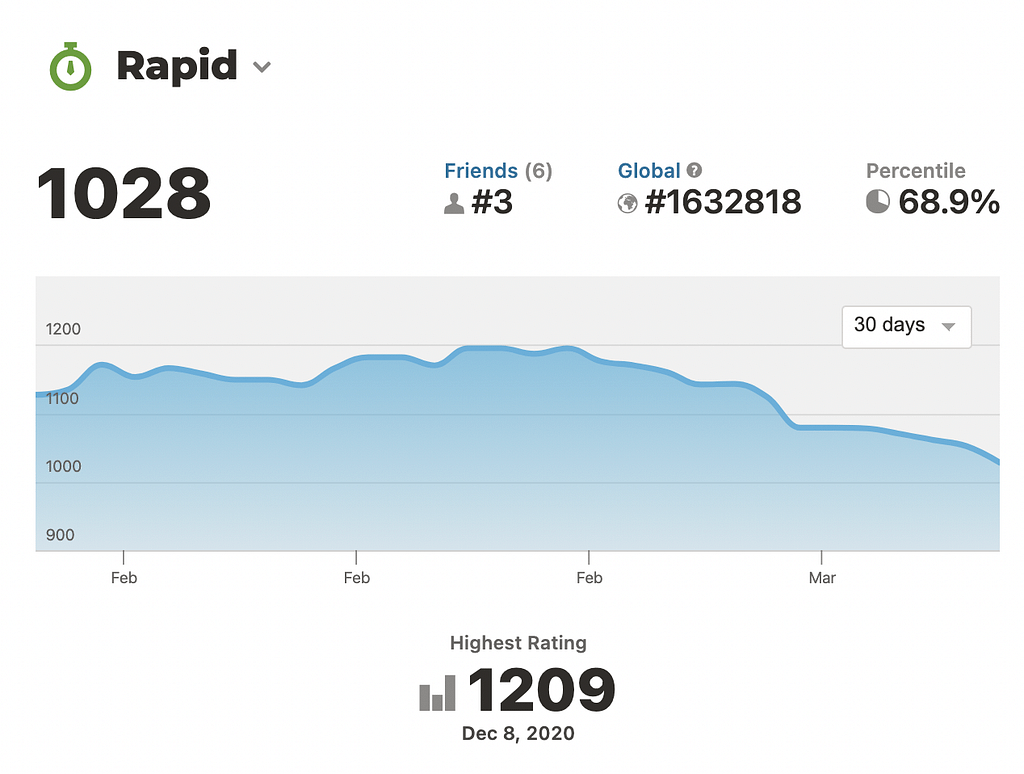 Do you see the slippery slope to the right? The fuck! I don't know what to do about it. No, I don't want to take tutorials. I don't plan to play for a living and it will remain a hobby (and that too a non-serious one) for sure. I just need to end this streak.
D. Better House
So, I have decided that I want to be in Mumbai for the next few months (till I get some stability in life), I need to find a better place to live. The one I live in is not bad, to be honest. Just that it's like a pigeonhole. I've not had fancy houses but whatever ones I had, they were always spacious and airy. Even in Mumbai. The ones that were not spacious, I made space by throwing away furniture. I like the idea of sleeping on a mattress. This one is neither spacious, not airy. And has so much furniture in it that I keep bumping into things even if I stretch my arms. So I need to change. Especially if I am going to WFH for the new few months.
The thing is, I am ok to change but I hate the idea of paying the exorbitant brokerage each time I want to move. But then the damn brokers do add value, to be honest. They rely on information asymmetry and give you numerous options that are otherwise impossible to find.
Plus moving comes with its own stress. You sort of leave a place and then if you are unable to find a place fast, you tend to make a hasty decision. I got lucky with the one before this. I loved the location and the space and the fact that it was a new building. Wait. That's the thing. I don't like those old houses that have been lived in. I like new constructions where I am either the first or the second tenant. This is for two reasons. A, since these are modern constructions, these tend to have a little better planned architecture. And B, since these are new, these places are cleaner and have lesser issues.
So that. Need to get started with househunting.
E. Jake Peralta and Gina Linetti.
I don't know who told me about Brooklyn Nine-Nine. But the way I can't stop winning at chess, I can't quit seeing this. I mean this is as close to binge-watching things as I have been in the last three years. I don't consume a lot of TV content and I am surprised at myself that I love this so much.
The two characters that stand out for me are Jake and Gina.
Jake, well, I want to be him. Lol. Goofy and funny and irreverent to authority and best part? Brilliant at what he does!
Gina, I want to date a Gina! Funny, opinionated, exuberant, outspoken and all that.
So that.
F. Fucking Book2
Lol. Book2 has taken the backseat for the time being. There are other larger issues to tackle.
With this, it's over and out. See you guys tom!