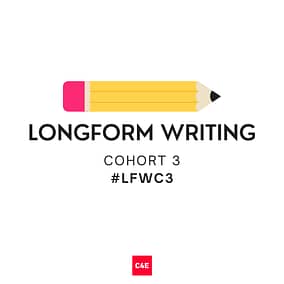 Hi! 
These are some frequently asked questions about our Long-Form-Writing-Cohort 3 ("LFWc3"). Should you have a question that is not listed here, please send us a tweet. Our handles are listed below.
Regards,
https://twitter.com/joshi_hemant_
https://twitter.com/pradx
https://twitter.com/saurabh
#LFWc3
Let's get started!
What is LFW?
LFW is an attempt to create a cohort of people that love to write long form. And like with all such cohorts, you better write if you are here. And when you write, you MUST write long-form. Pieces that are longer than 2000 words.
The obsession with long-form is only and only to encourage us to build a writing habit, and give each other a goal that is a little tough and yet achievable (you know, just outside of our comfort zone). This is where people shine the most! And now, it is your time 🙂
What would we write about?
You can write about anything, really. As long as each piece has more than 2000 words. These could be articles, essays, blogs, books etc.
Of course, you may write poetry, as long as each poem is part of a compilation that goes beyond 2000 words! Dr Shruti wrote a lot of poetry last time around and actually published a book!
When do we begin?
You start by filling out this form. This is your first step to showcasing your commitment to this.
We are gathering interest right now. Plan to start from the first weekend of Jan 2023. We would be together for the next 6 months, meeting each other each week.
Who is this NOT for?
If you are…
Unable to commit 4 hours a week for the next 6 months
Unable to commit to the time that we decide for each other. If we decide that we'd talk at 7, we will start at 7. Time is THE most important commodity!
New to writing. The cohort is best for people that have built a writing habit already and are looking for an accountability group to up their game. Think of this as an advanced-level writing class!
Time Commitment?
You need to carve out 3-4 hours a week. Out of this, 2 hours for a weekly group call and another 2 for hour-long 1v1 calls with your two buddies.
We hope to meet each other for the next 6 months, once a week. So essentially we are together for the next 6 months.
Money?
The first two cohorts were free. We volunteered our time.
This time around we are thinking of keeping a nominal fee to pay for running this cohort. In the ballpark of Rs. 1000 per person per month. Mind you, this is a ballpark. The actual number could be 500. Or could be 1500. Or even zero for that matter!
Mind you, we would not take this home. We would use this money to ensure that the cohort runs smooth (paying volunteers, tools etc)
PS: In case you are unable to pay this fee, we are happy to waive this on a case-to-case basis. 
How many participants? What's a buddy?
We would have no more than 16 people in this cohort. Anything more than this, managing, accountability and other things become uncontrollable.
Each member will have two "accountability buddies" and one from the organizing team. The idea is to keep you and your buddies on track!
The buddies would be allocated on the basis of your shared interests, geographies (we want people to meet), writing motivations (film writers need to be buddies with each other) and general whims of SG ;P
When do we usually do meetings?
The larger, group meeting would be on the weekends, post 7 PM IST. On Zoom. Or any other tool. So, if you have an active social life on the weekends, you may not be able to participate.
The other is between you and your buddies. You choose the time / tool. But you must be on a weekly cadence.
We communicate with a Discord group. Discord. Not Whatsapp.
Since we are a remote-first cohort, we want your camera to be on when we are meeting. If you are camera-shy or live in a bad network area or the camera is broken, request you to NOT be a part of the cohort.
We would encourage in-person meetings as well. This depends on various factors – people in the same city, time, local travel etc.
Do we keep a specific objective in mind while participating in LFW?
Preferably yes.
You could be wanting to write books, film scripts, short stories, and even academic writing! As long as the output is more than 2000 words.
Because this allows you to stay on course. Otherwise, it becomes a generic room you go to, enjoy the banter and get out. We want people to be a tad serious about writing. Like they said in Fight Club – if you are here, you better fight. We want people to be the man in the arena. We want you to participate. And not just be a critic.
What happened in the last LFW cohorts?
In the first cohort, we failed. More on a different post, on a different day.
In the second cohort, one of us wrote and published a book, and another wrote a couple of drafts of her book. I found friends that I would probably last a lifetime! 
What language can you write in?
Any language but prefer English / Hindi so that more people can consume your work.
Assuming that these are the two most popular ones. Open to more languages as long as there is one more person that can comprehend that language and give you feedback et al
More questions?
Send me a tweet. I am at https://twitter.com/saurabh.

That's about it! 
Thank you for reading. 
Team LFWc3 
PS: LFWc3 is brought to you by Hemant, Pradeep, Saurabh, C4E, PPP and friends. Show these people some love 🙂