5:41. Woke up a few minutes ago.
Saw Whatsapp first thing in the morning.
Saw a video by Vijay Yadav. This one.
Then I saw Nobody's trailer on AnSr's recommendation. Here…
Almost cummed in my shorts. I mean the team from John Wick + Saul (aka Bob) + Music + Visual Delight. Wow.
Also, this is the second film since yesterday that I have been tripping over. The first one is King Richard sent by VG.
This film is based on the life of Richard Williams (better known as Venus and Serena's father). King Richard touched me like no other film has, in the recent past. I mean it talks about an ambitious man that wants to see success through the success of his daughters. Will come back to this film in a bit. Lemme park it here. Point A.
So, I feel human after two days.
Human as in, physically, there are no lingering pains anywhere in the body. I feel refreshed, energized, and all that. It was probably aided by the fact that I have been resting last two days. I had slept at 10:30. So good 7 hours of sleep. Or maybe because I did not eat crap yesterday. Whatever worked yesterday, I hope it works today as well.
In contrast to this feeling of greatness in the morning, yesterday was bad. So bad that it was probably the darkest of the last few days. It may sound like hyperbole but I could only survive because of two things – 1, Naval. 2, my ambition. Will come back to this in a bit. Parked point B.
So, for some reason (money situation primarily), I spent all of yesterday questioning my life choices. I mean where I am is an outcome of the choices I've made and the way I've acted on those choices. Clearly, I did not do a good job at either (choices and actions). If things were bad just at work / career front, I would still be ok. But things have been pathetic at other ends also. Lemme share a chart that I maintain on my vision board. I don't think I've ever made this public. But here it is. As of today morning.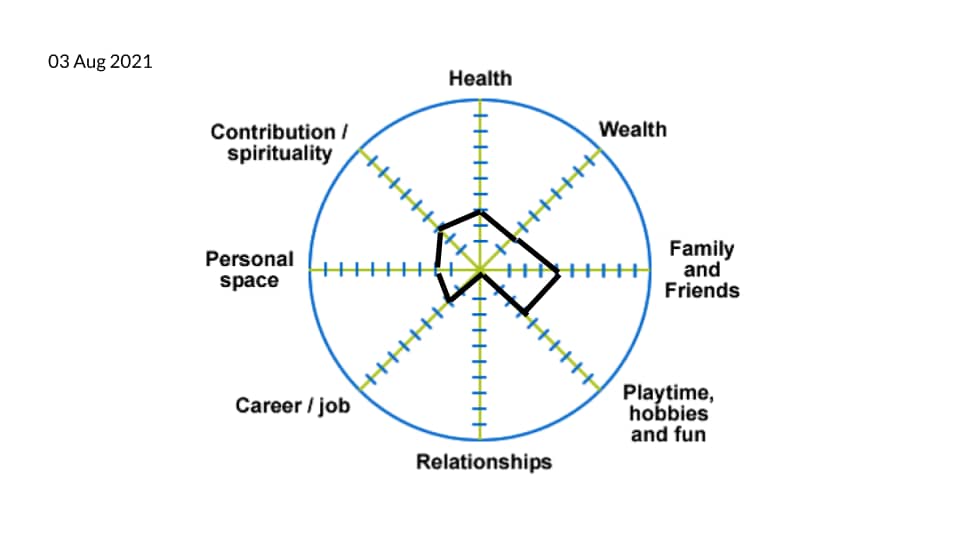 I don't know where I found this chart from but I think it's a great way to evaluate and measure where life is. And you can then reflect on what needs fixing. On my chart, I can see that I am failing at all 8 important things in life. The only saving grace is my family (and even on that, I choose to live away from my parents).
Of course, like any other thinking, feeling, evaluating individual, I want to fix these. And these dark days are occurring frequently and like Steve would say, if things arent good for a few days on the trot, maybe it's the time to change those. Let's see what I change. And how. And when.
Lemme talk about King Richard.
Coming to Parked Thing A, King Richard.
I could relate so much to King Richard. I had tears flowing when I saw the trailer. I bet the film will win all the awards there are! I wager that it would get at least 10 Oscars.
It is after all a story of one man's fight against odds, the chase of impossible, trust, faith, patience, hard work, grit and more. Oh, and of ambition.
For all the use of the word ambition in my head, thoughts, and actions, I am as big a failure as they come. To a point that it hurts. And it's suffocating.
The days when I am not busy with the general humdrum of life, you know, the days when you can take a pause and think? Those days I spiral so bad into the literal abyss that I take literally a week to get out of. I must admit that the days I go AWOL on friends and family, I am not physically unwell. Rather I am suffering from dark thoughts about where I want to in life and how far away from that I am. In terms of money wealth, impact, reach, work, fame, notoriety, even fitness. And the worse is that from where I stand, I don't see things improving at all.
As I age, these bouts of dark days are happening with more frequency (I know I've said this already) and it takes longer to get out of those. The escape mechanism I had of taking a car and hitting the road is no longer a viable option. The other escaping method was to eat like a mad man, switch off the phone, and sleep. Even that doesn't help anymore.
This is where I lean on what I learned from Naval. Will come to it in a bit. I want to stay with King Richard right now.
So, the other thing that I picked from King Richard is the reinforcement of the belief that I will probably not be a massive success as an individual. Rather I may be cut for being that person in the shadows, the one that works with these superstars and shapes them. You know, someone that sees their success come to life via others. In Richard's case, it was his daughters. In my case, I am not sure. I mean I do have a few young ones that I am investing into. But I am still far from seeing them reach anywhere. I just hope that I don't end up like Vikramaditya in Sur. Anyhow. Who cares.
I like the idea of enabling others. I just hope I am able to contribute to their lives and make superstars and massive successes off them.
The other thing that I want to talk about, from King Richard, is this entire thing about giving a hard time to the ones that are working for you. Remember Whiplash? I mean the entire premise is this hard-love for talented apprentices. Of course, I remain conflicted about what I take away from that. On one side, I like the idea of hard work, determination, sacrifice to achieve what you potentially can. And on the other, I know that mental health issues are real, especially with the dopamine-laced brains of kids around us. After I saw King Richard, I think I am leaning towards being a tough mentor. But then, to be one, do I have what a Richard had? Or Fletcher?
I dont know. Time shall tell.
Parked Thing B. Lessons from Naval Ravikant.
Lemme talk about Naval and Ambition.
So I read this tweet from Naval that said something like this – you can't control your thoughts but you can observe them and choose to react to those.
Yesterday was one such day. When I was mindfucked. Probably because I was unwell and there were other things playing on my head. So I went walking. I walked real slow. I did like 5K steps in 2 hours. And while I walked I did not have a companion with me. You know, things like phone calls, music, videos, chess and more. I did not even pause to take photos that I've been trying to last few days. I merely watched my thoughts. And I tried not to react to the non-stop dark thoughts about my inability to do things. Or my inability to hold onto friends / relationships etc. I merely observed the thoughts as they came and went. It was tough considering I had to observe traffic in / around Lokhandwala as well. Lol. Bad timing.
So I while I was observing my thoughts, my head kept swirling back to the definition of success that I want to live my life with. You know, the outcome of ambition. It dawned on me that I believe success is the long-forgotten Kabir Das ka doha. It goes…
Saain itna dijiye, jaame kutumb samaay, main bhookha naa rahoon, sadhu na bhookha jaaye

Kabir the poet
Further, here are the things that I thought would look like success.
Mastery over time. When I can be the master of my time with 100% certainty. Right now, I am at about 5% in terms of how I plan my life and time. Long way to go.
Financial Freedom. When I no longer work for money. And I can choose to work on things that I want to, even if I am not rewarded for those things. Right now, I am in debt. So far far away from financial freedom.
Plus, I do not have those ambitions where I want to reduce consumption, etc. I really want a lavish life with all comforts and all that. I want to be able to buy anything from anywhere without thinking about the cost / price.
Giant with a shoulder. When I can support others around me with whatever they need / want. And then I want to help others in whatever way I can!
That's it. Three things.
Wow, that simple!
Funnily, as I think and write about this, family (my family, not my parents) doesn't feature in this. Maybe I will change with time. And my personal goals of Everest, Marathon, etc do not fit in here as well. Hmm. Funny.
So yeah.
This is about it from the walk yesterday. A lot of this was probably triggered by King Richard. And by the general failure that I've been. Films do have power like no other. Must must must fastrack the non-existent films career. Come on, Universe!
I guess this is about it for the day. Realized, I've been writing for almost 2 hours now! Oh, and here's streaks…
OMAD – 1
#book2 – 0
#noCoke – 145
#noCoffee – 0. Had two.
#aPicADay – 0
Money spent – 30 + 232. Adding this from today on.
Killer Boogie – 0
10K steps a day – 2
Surya Namaskar – 0
10 mins of meditation – 0
Minimaslism Counter – -2
Morning Pages / Meditations – 235