8:15. Starbucks.
Yesterday I lost someone who I considered a mentor, friend, bouncing board, and a father figure.
No, I was not related to him by blood. In fact, for most of my life, I did not know him. I started knowing him only around 2007 (or thereabouts – not sure of the timelines) when I started getting active on Twitter. He was one of the first people that I met IRL and from the first interaction itself, I knew I was going to cling to him for life. And I did. In the sense that every time I needed help, every time I needed inputs, every time I hit the wall, he would be one of those people that I would reach out to. And he would be around. To give counsel. To give consolation. And to most importantly, push me.
He is one of those rare people that believed in my potential. Each time I met him, he would tell me to try and do more in life than what I am. He was the never settle kind. And he knew that I could do more. He was very honest, upfront, and candid with his inputs to me. It was often harsh. I would complain but I would always walk out of the room inspired. Most times I've wanted to slack, I would try and imagine how would he react to my underachievements. And that would make me push myself harder. And to do more.
My first book wouldn't have happened without my interactions with him! Here's a page from the book.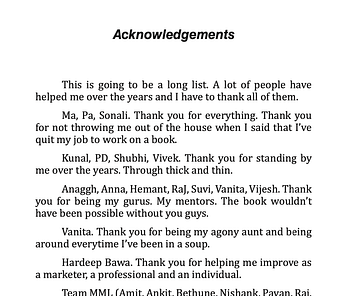 Now that I think about it, I think I put his name there to get his validation.
That's the thing about the relationship between him and me. He was that strict father that would not say a good thing if you do average shit. But he would blast you if you slacked. He wanted you to only do the best. He wanted you to succeed. Be that massive success. I have to confess that since I've known him, I have wanted his validation. All the time. Off-topic, the two other people that I seek validation from are SC and sgMS (even though both these are now part of my past). More about these two in another post.
And I failed. All the time. Failed him. Failed myself.
No, we did not talk often.
No, we did not work together.
No, we did not share personal, deeper things.
I know he did not consider me a part of his close circle.
And yet somehow when I heard about him, I felt this massive, inexplicable loss.
Thing is, even though we've had the worst two years and have lost countless loved ones, I still don't know how to process when someone passes away. I don't know how to explain how I feel in such situations. If I can choose frivolous words, I'd say, it plain sucks.
Of course, I want to believe that I am an HFS and I can move on fast. I now know, I may not be. I am probably pretending. And fooling myself.
Yesterday, right after I heard the news, the first thing I did was to check with his partner. And once I realized it was not a rumor per se, I was dumbfounded. At loss. Of thoughts, words, actions.
No, I did not stop living. After I confirmed, I attended two meetings where I cracked those polite jokes and made small talk that you expect on such calls. I then went for a longish meeting for a film where I thought deeply about things, made jokes, got into an argument, and all that.
Once I was back, once the busyness of the day was over, it hit harder. I tossed and turned in the bed. Sleep was far. Even though no coffee during the day. I wanted to distract myself. I craved for that close someone that I could talk to. But then, what do you talk to them about? Maybe it's not the conversation but the feeling of togetherness that matters? I don't know. But I did something stupid. I randomly messaged some women on Instagram. Fucking conduct unbecoming. Need to be stronger than that.
I know he was not family or anything. For a bystander, he and I were just two guys that knew about each other via Twitter. But the bystander doesn't know that he rooted for me and invested his time and connections in me and my life. He put his reputation at stake for me. He chose me at times when I did not choose myself. He inspired me. He was there for me.
And he's gone. Poof!
I know this too shall pass.
I know time would heal.
I will be ok soon.
Heart goes out to his family and all the thousands of others who's lived he had touched. The best thing I can do, in his memory, is to live to the values that he lived by.
The values of hard work, of honesty, of friendship, of being enterprising. Most importantly, of being that kind and selfless person that gives, gives, and gives without expecting anything in return.
I must do more, push harder, realize my potential and make him proud. From wherever he's seeing me, if he sees me (I am one among thousands of beneficiaries of his kindness), he has to be fucking proud of me. And as Fobu told me a few minutes ago, be that nice stranger that roots for others.
That's it for the day.
There's no other reminder of the shortness of life than such moments.
Memento Mori.
Time is short.
Must do things. Now.
Must be nicer to others.
And push myself harder.
And, this too shall pass.
Regular rants tomorrow. Here's streaks…
OMAD – 1
#book2 – 0
#noCoke – 117
#noCoffee – 6
#aPicADay – 0
Killer Boogie – 0
10K steps a day – 0
Surya Namaskar – 0
10 mins of meditation – 0
Morning Pages / Meditations – 207