7:38.
Woke up about 10 minutes ago. I had literally passed out. I was tired. The day was exhausting af but I did everything that I want on a perfect day. So that's cool. I ate things I love (a lot of carbs and ice cream to end the day). Spoke to AD, SJ, and even mailed PM. Attended the inaugural session and the first session at docedge – learned so much. If I manage to attend all sessions (which I am hoping to), I can see my life change! Did some work. Got some others to do some work. Walked some (almost 9K). Was tiring. By the time I went to sleep, I was exhausted. I probably slept well. I woke up at around 3, I had some water and then I slept again. So that.
Ok. Strangely I dont know what to write!
Lemme list of things that i am thinking on.
A. It's VK's birthday. Wished her. Been one of the closest confidantes. Unassuming, non-judging, stable in the head. Grateful to have her in my life. Got access to her because way back in 2009, took a shot out of my league. Here is the email that I sent her (that probably started our relationship)!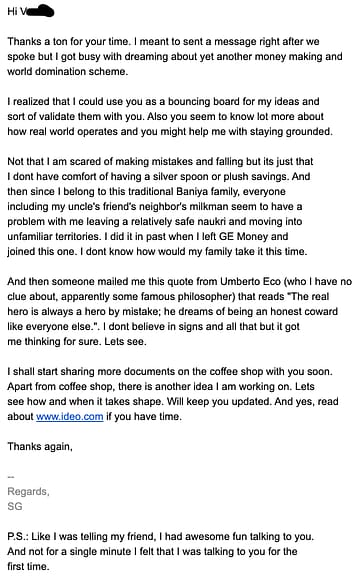 As I re-read this email, I realised that I dont recall half the things we talked about but I must have been damn impressed with her to have sent her that email.
Oh, the coffee shop thingy that I mentioned in the end, in 2009 when I quit CLA, one of the ideas was to start a chain of coffee shops. Like every other (pseudo)creative person. 12 years on, I am not any wiser. The coffee shop is a dream. Lol!
B. I've got a new person on board at C4E to help me with a project. She must be 30 and while it's early days, she is a million times better than I. In terms of being responsible, orientation towards work, always-on thinking, and more. I would love to have more people like her on my team.
But then, early days. Let's see how things pan out with her. If it works well, I will change my hiring thesis to getting people that are in late 20s, early 30s (rather than early 20s). Oh, btw, this reminds me, there are some incredible 16-year olds (16!) on Twitter that are doing some amazeballs work. I need to invest in them and get them to work with me! #note2self
C. While writing this, I realized I do not have boundaries between work and personal life. Which is ok, for the time being. The realization dawned on me when I was trying to figure what to write. While I was thinking, I kept reading about things that needed my attention. I kept checking the Cowin app / website for vaccination. I continued to think about all the work that I can do. Etc etc.
D. Last night evening, I was so exhausted from a computer screen that I decided to not look at it only! That's new, if you ask me. I ended up seeing shit on my phone. Am I burning out?
E. I've found a new thing to trip on and kill time with. Infomercial videos. Ordinary people watch shit on Netflix. Extraordinary people read. Legends watch Taarak Mehta. People like me watch infomercials. I am a big fan of Vince Offer. He's up there for me, along with people like Shekhar Sumar!
I mean see this Slap Chop video and tell me that you don't like him!
Even though I don't have a kitchen, I want to stop having a boring life and I want to order all the Slap Chops that I can imagine! I want the nuts. I want the linguini and the bikini! See it to believe it!
Wait. Here's a #parkedIdea. Can I make a documentary on the lives of these infomercial stars? Should be interesting. No?
So yeah.
Ok, need to get on with the day. See you guys on the other side. Over and out.
Oh, here's streaks…
Morning Pages / Meditations – 146
#aPicADay – 0
10K steps a day – 0
OMAD – 0
#noCoffee – 0
#noCoke – 59
10 mins of meditation – 0
#book2 – 0
Killer Boogie – 0
Original Work (limited time only) – 0
Surya Namaskar – 0