9:30 AM
This is not the first thing I am doing. This is not even the second thing. I am some 10 KMs away from where I live. I've just finished a meeting and gearing up for another. Fuck time is such a precious commodity! I need to end this by 10 AM, irrespective of how I am doing. Even if it's mid-sentence, I will hit publish.
So morning pages. Lot to talk. No time. Will make bullet points. Let's see how it goes. And how many I can capture.
Yesterday
Fairly ok. Sleepless. Don't know why. Could be coffee. Could be stress. Don't know. Will figure it out with some experimentation.
Did not goto a Starbucks yesterday. This is the first time since I came back to Mumbai that I have not stepped inside a Starbucks. Trying to quit coffee. I am perpetually tired and sleepy and the neck hurts. Growing old is no fun.
Washed clothes after ages. Even in lockdown, when I was at a fancier place, I would just shower with my clothes on (really) and that would take care of them. Plus since I was not stepping out, I did not have a lot of clothes to worry about. Now, I do. Sigh. Need to fix the Mumbai vs Goa thing and then the house decision.
Went for a walk at the beach with DK. Walked after a while. Met her after a while. Was good fun to see people as young as 26 being so sorted in the head. Wish I were like them when I was younger.
Things I am thinking on?
Work seems to be picking up. Not a lot of money but I am being busy for sure. Am making it in the worst way possible – by loaning out my time but that's that. Till I get back to acchhedin, this is how it's going to be. So let's put our head down and do it.
What else? Ok, I don't do a great job of writing when I am rushed ;P
Goa. Going there tomorrow. Even though I will be working, I am actually looking forward to the "trip". I don't know why. No, I still don't know where I would end up living (Mumbai or Goa).
The sad part of lockdown is evident now. Non-stop calls with no breather is not cool at all. Screentime is peaking like Everest! Here's a screenshot from my primary laptop. This does not include phone calls, calls on the phone, thinking, and all that.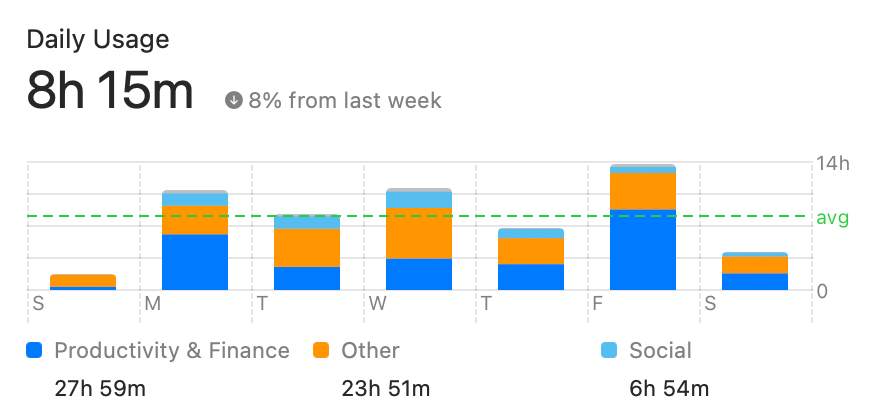 That's about it. Over and out.
I hope I can stop having coffee! Today's day 2. I am at a Starbucks and I am already tempted!
Ok, its 10. Publishing. In whatever shape it is in. Over and out.