8:09. Starbucks.
There is nothing special to report to be honest. I mean there is some updates in terms of work I am doing and projects I am involved with and all that. But they are more "work" than anything else and I try to stay away from work as much as I can. So I don't know what to write.
Long-Form Writing Cohort
The highlight of the day has to be (thanks to my Roam for helping me review the day), the meetup of the LFW Cohort that I am a part of. Five of us made it to the session and each person had super insane updates on what they were up to. One of us has been able to monetize his writing by getting sponsors. Another's writing is being read by a US Govt agency. There's one who's finished a couple of film scripts and is now ready to pitch. Then there's me who's wading into mediocrity with a million things and thousand projects.
However a couple of things became clear.
A. There is immense value in building a certain following on social networks. While you may engage with them a lot and it may suck time, the access you get once you have a following is insane. I have to do what it takes to build this.
I mean if it means getting fit and posting my transformation videos, I will do it! I have the discipline once I decide on something (these morning pages for example), just that I cant seem to get started (for multiple reasons – the time it takes to work out, my Hernia, my aversion to public places, inability to hire a trainer, lack of interest in an online Yoga teacher).
If not this, then hiring a cool kid to write a 1000 tweets from my handle and get known for that.
Basically, come hell of high water, I have to build a following!
B. Great things happen when you ship. Even if you ship less often. You have to work at a certain frequency and cadence but you ought to ship. And ship things others want. The world has moved from "do whatever consistently and a following would get built."
It is now about building things, doing things that the world wants. You know, as Vivek calls it, need to find your founder-product-market fit! In simple language, what is it that you can work on that you are great at and why is it important?
I clearly need to work on this.
I mean I've been aware of this but never got around to work on it. And if I did, the attempts were more or less tactical. You know, to be done when I do not have other things to work on. Maybe this needs to become strategic. In the sense, put this higher up in the priority?
Let's see.
Anyhow. So, before I move on, here's the track for the day. The one I will play on loop as I write this. It's Singh is King. Here…
The Aram Nagar Documentary
So, the documentary that Mudit and I are on, we've started to make progress with it.
Yesterday we put a call out for actors and others that know Aram Nagar to contact us. So far we haven't got any interest per se, but let's see where it goes. Here's the post that we put out.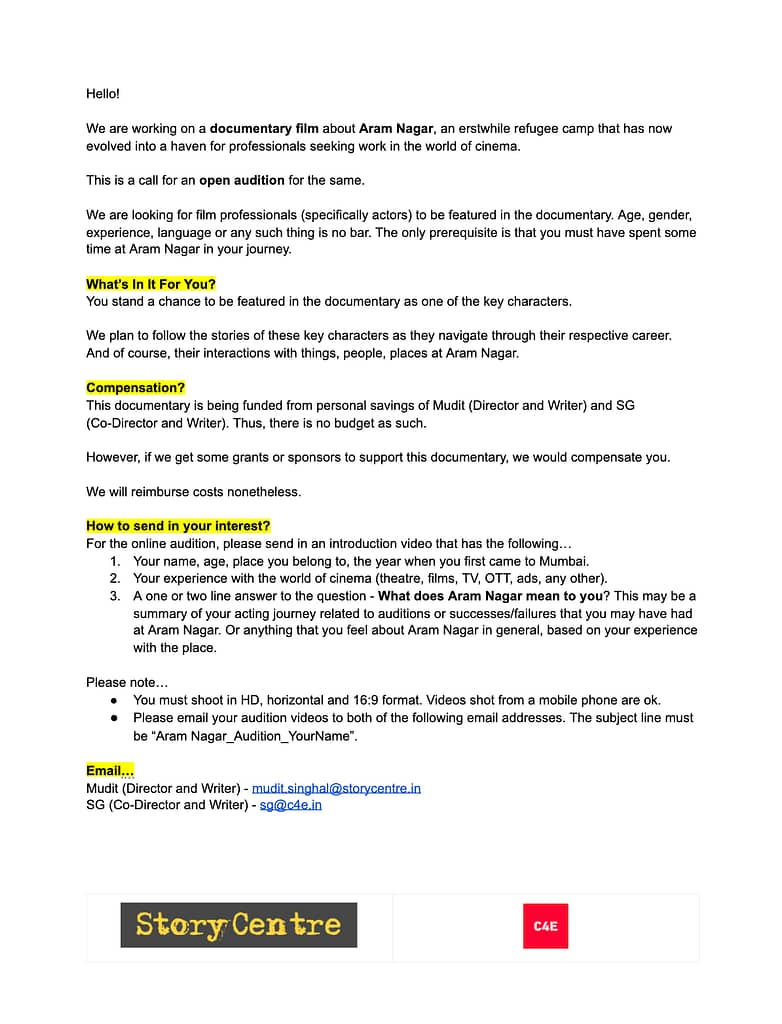 In case you know someone that may fit the bill, please do reach out.
I guess this is about for the day. Apart from these two projects, there's isnt much that I have to talk about.
Here's the streaks…
Morning Pages / Meditations – 193
#aPicADay – 0
10K steps a day – 0
OMAD – 0
#noCoffee – 0
#noCoke – 105
10 mins of meditation – 0
#book2 – 0
Killer Boogie – 0
Surya Namaskar – 0
PS: These posts have started to get boring. Need to find a way to bring spark back to these. Let's see how. #note2self