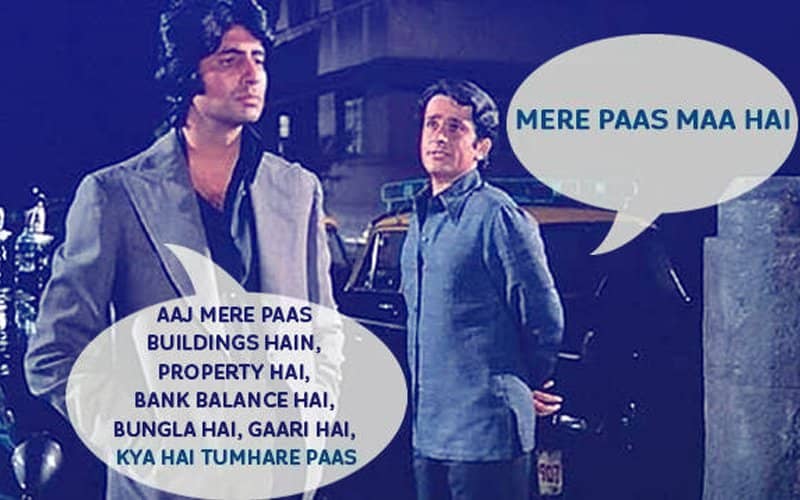 Show me a person that does not know this dialogue. And I will show you someone who has NOT lived! Not at least in India.
This is among the scores of iconic dialogue from the film, Deewaar. Released in 1975, directed by Yash Chopra and written by the legendary Salim – Javed, Deewaar is what you expect a film to be – a roller-coaster journey through the lives of characters next door. From the degradation of a righteous man who chose to take a stand for the poor (and failed at it), to the ecstasy of the new-earned wealth of a young man (who has lived in abject poverty as a kid), the dismay of a mother who'll be made to choose between her sons, the film not just entertains you, but also makes you question your own decisions, morality, and at least in my case, life!
So, as an aspiring filmmaker, I HAD to reverse engineer the brilliance of Deewaar, learn the tenets of what went in while they made the narrative, and then, hopefully, use those when I write my scripts.
One of the things that I realised, after I attended online sessions with Anjum Rajabali was that most great stories tend to follow a simple narrative structure of The Hero's Journey. Discovered by Prof. Joseph Campbell, The Hero's Journey (also known as the Monomyth) postulates that in most myths and folklores and religious texts (and thus popular culture and books and films), the protagonist typically faces a challenge. To sort it, he has to leave his current world (and often, the ordinary and comfortable one), spend time in the other (and often the challenging world) where he would fight a demon, and then come back to his ordinary world. In this journey, there are 17 distinct stages, and at each stage, he grows as an individual. A pictorial representation looks like…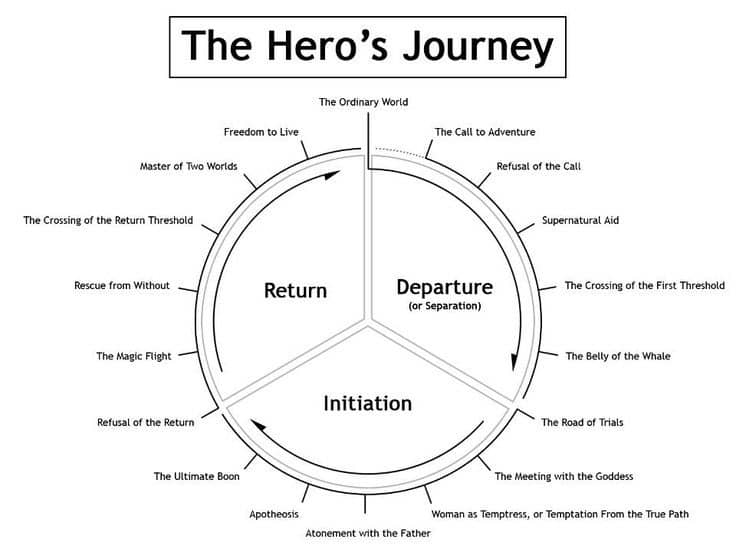 I first wrote about The Hero's Journey. Then, along with Shreya (of Green Grandma fame), I did a deep dive and wrote the Hero's Journey for Munna Bhai MBBS. And I decided that I would read and publish as many as I could to learn as much as I could.
So, The Hero's journey for Deewaar is the second in the series of explorations that I am doing, this time, with Hemant Joshi (who I met at one of the SWA sessions).
Here we go!
The Plot of Deewaar
Deewaar starts as the story of one Anand Verma and his family (wife Sumitra Devi and two young sons, Vijay and Ravi). Anand works at a local factory and is an honest, hardworking, and righteous worker. And naturally, the leader of the union of workers.
These workers are at loggerheads with the factory owner, who in turn is, well, like any other factory owner – a conniving, scheming bastard! The workers go on a strike and mandate Anand Verma to negotiate on their behalf.
The factory owner abducts Verma's family and asks him to pick the family or the worker's rights. Verma, like a typical Indian, chooses his family. The workers are disappointed and thrash him, leaving him in a hospital. Verma is unable to handle the emotional turmoil and runs away, leaving behind the mess that he's created. While Verma is drifting, his family continues to be ridiculed whenever they step out. One of these days, the elder son, Vijay is manhandled by goons in the market and they tattoo "Mera Baap Chor Hai" on his forearm.
Sumitra Devi moves herself and the sons to Mumbai where they are forced to live on the footpath and sleep under a bridge. Sumitra picks up odd jobs and is unable to meet the expenses. This is when Vijay steps up (not even a teenager at this point) and decides to support his mother with Ravi's education and upbringing. He starts as a boot-polisher.
On one of his regular days, after he's cleaned the shoes, one of his customers flings a coin at him. Vijay is angered and says since he's worked hard on shining the shoes and he deserves respect. Dawar, a local goon, is accompanying the customer spots the talent in Vijay.
We take a leap in time and Vijay is now working as a coolie at the docks. Vijay strikes against the local goons (controlled by Samant) collecting hafta from all the laborers. Furthermore, he goes into their den and thrashes them.
This is noticed by Dawar (who's another adversary of Samant) and he invites Vijay to join him in his business. His first job is to ensure that Dawar's smuggled gold is safely brought into Mumbai. Vijay hatches a smart plan that involves duping Samant and is able to execute flawlessly. Samant pledges revenge!
Vijay's life starts turning around – he buys his mother a better house, gets himself a better car, his clothes get better. Everything in life starts seeming better.
On the other side, the younger brother, Ravi completes his education and goes away to train for being a police officer. When he returns, his first case is to rein in Dawar's businesses. Ravi realizes that he would have to catch his brother to solve the case. He refuses initially. In fact, he goes and asks his brother to surrender. Vijay refuses. The brothers have a dispute over this. Their mother takes the side of the righteous one, Ravi, leaving Vijay all alone in his giant mansion.
A few days later, Ravi decides to take the case again and starts catching Dawar's men one after the other. Dawar realizes that Ravi must be stopped somehow. One of his gang's members suggest that Ravi be killed, but Vijay stops them. Vijay tries to convince Ravi to back away from Dawar's men, but Ravi holds his ground.
Their mother falls sick but Vijay cannot visit her – the cops are staking around the hospital. Vijay is distressed. Around the same time, Samant, who had pledged revenge, kills Vijay's girlfriend. Anguished, Vijay goes to the hotel where Samant is staying and kills him. In the process, he exposes himself to Ravi and the cops. Left with no choice, Ravi fires at Vijay. Vijay manages to drive away, only to hold long enough to come to his mother praying at the temple she frequents. He eventually dies in her lap.
And the story ends.
Phew!
The Hero's Journey for Deewaar
In our opinion, the Hero of this film is Amitabh Bachchan's character. And we would use this vantage point to explore the Hero's Journey.
As always, before we get in, here are a few disclaimers.
This is our interpretation of The Hero's Journey for Vijay's character. And like all interpretations and opinions, we may be wrong.
If you disagree please do point out. We are always open for inputs 🙂
Here we go…
SNo
Beat
Hero's Journey
Additional Notes
1
Film starts with a bravery medal being given to Ravi Verma. He talks about Sumitra Devi (his mother) being the reason that he got the medal. Makes the mom accept the medal.
This serves as a hook into the world of two brothers – Vijay and Ravi.
2
Flashback

We see a bunch of laborers on a strike with Anand Verma leading it. He is demanding that the laborers get a better deal.

On the other side, his sons are all praises for the father. The wife mentions that kids look up to him. Anand mentions that he loves kids more than anything else.
The ordinary world
This scene establishes the milieu. The ordinary world. And the fact that there is this huge divide between the rich and the poor.

Plus we get to know the family dynamics.
3
The workers continue the protest at the factory owner's bungalow. The owner calls Anand inside and offers a deal. Along with that he blackmails Anand and asks him to choose between his family and the workers.

Anand chooses his family and goes back to his workers and admits defeat. The workers thrash Anand and leave him bedridden.
The flaw in the character of Anand is showcased. We also establish a conflict in Anand's life. This sets up for a larger conflict in the life of the hero – one that would eventually grow into the inciting incident for the Hero.
4
The wife and two children discover that Anand has abandoned the family.

Some drunkards round-up Vijay, the elder son, and tattoo "mera baap chor hai" on his forearm.

The mother decides to move to Mumbai. She has no money and is forced to take up odd jobs and sleep under a bridge.
Challenge from the outer world
The hero's life, as we know it, is about to change.
5
The younger brother, Ravi, wants to study.

Vijay, not even a teenager, decides to man-up and tells his mother that he would work as well so that Ravi could get a good education.

Vijay becomes a boot polisher.
Call to adventure
The hero accepts the challenge and decides to do whatever he could do to get his younger brother education.
6
Dawar buys a racebook and gets his shoes to polish. Jaichand (Dawar's associate) throws money at Vijay, who refuses, saying he is not a beggar.

Dawar asks Jaichand to pick the money and hand it to Vijay. Also, he predicts that Vijay will go on to be a winner in his life!

We see a juxtaposition to Ravi who's topping the school.
The seed of separation between the two brothers is sowed.

This also shows us the character of Vijay where he has taken a stand without worrying about consequences; unlike his father!
7
The mother is now working at a construction site. She has to face an abusive manager. Vijay sees it and hits the manager and runs away.

The mother compares the two brothers. She tells Vijay that Ravi is kind and sorted.

Vijay is angered and flashes his tattoo, demanding an answer.
We realize that the hero will stand up against anyone that does not respect him or his family. He seeks respect.

The suffering of the hero is also showcased. The wound becomes visible.
8
The mother takes two kids to a temple. Vijay takes a stand for himself yet again, stating he will not enter the temple.

Time moves on and sons grow up.

Ravi asks what does mom seek from God. She says "tere liye sukh and Vijay ke liye Shaanti".

The two brothers go their separate ways
Crossing the first threshold
This parting of ways is both symbolic and thematic.

Plus, by refusing to go into the temple, Vijay is protesting against the injustice in his life.
9
Vijay now works at the docks as a coolie. He gets a badge with the number 786 engraved. Rahim Chacha tells Vijay that 786 is a lucky number to have and asks him to keep the badge on him all the time. They also talk about the hafta the coolies have to pay to the local goons, controlled by Samant.

A coolie, Gangu gets killed when he refuses to pay the goons. Something stirs in Vijay. He says, "agle hafte ek aur coolie paisa dene se inkaar karne wala hai"
The road of trials
Vijay is challenged again.

"Gareebi ka jurmana" is a trigger for him to fight the norm. He wants to change things.

The badge with the number 786 could be the Supernatural Aid.
10
Ravi on the other hand is struggling to find work despite his numerous attempts.
11
At the docks, Vijay refuses to pay the goons. Fights and comes out on top.
The road of trials
Again the same characteristic is showcased – when someone challenges his respect, he will revolt.

The path for Vijay is full of such "trials".
12
When he comes home, the mother scolds Vijay.

In response he says, "Tum chahti ho main bhi mu chupake bhaag jaata"
Again, the pain is showcased.
13
Ravi continues to struggle to get employment. We see that he gives up an opportunity for someone who's struggling more than him. We see a comparison with the idealist father.

The father is spotted drifting in a train.
The two worlds of two brothers are now completely different.
14
Dawar gets Vijay to work with him.

The iconic dialogue, "Main aaj bhi faike hue paise nahi uthata" is played out.
Meeting with the mentor
Dawar acts as the mentor who helps Vijay into this new world.
15
Ravi meets his girlfriend's father (who's a cop) and he recommends that Ravi join the police force
Again, the contrasting paths.

The elder brother is being mentored by a goon; the younger by a cop!
16
Vijay gets his first assignment of getting a gold consignment to Mumbai. He schemes Samant in helping him do so.

We hear, "Suna hai lift ki deewar ke kaan nahi hote".
Road of trials
Establishes Vijay as a formidable personality. And in the process he makes allies and enemies.
17
Vijay shows a giant house to his mother. She gets suspicious of Vijay's work.

Ravi comes running and shares he got a job as a cop and goes away for his training.
Vijay starts to see success. He is getting deeper into this new world.
18
At the poolside of a swanky hotel, Vijay suggests to Dawar that they plant someone in Samant's gang. They plot a scheme to get Darpan recruited in Samant's gang.

Darpan goes to Samant and gives out information that Vijay would be at Sona bar and they can kill him. Samant and gang plans for that.
He continues to make friends and enemies.

He is getting sucked even deeper into the new world.
19
Vijay meets his future love interest, Anita at the bar. She and the lucky badge (786) save him from the Samant's sharpshooter.
This is a case of setup and payoff – the lucky badge does two things – makes him meet Anita, his love; and saves his life!
20
Dawar says he wants to take a backseat and installs Vijay on the throne.

However, Jaichand had eyed this for a long time.
Belly of the whale
At this point, Vijay is deep into the new world.

He has conquered the new world – or at least he thinks so.
21
Ravi comes back home as a police officer. Vijay realizes that at some point the paths of the two brothers will cross.

He laments with Anita that Ravi and he are different.
This is the point of no return for the hero. The final battle for the hero has been seeded.
22
Ravi finds out that as a cop, his top two targets are Dawar and his own brother, Vijay.

Ravi is shocked. He is initially in denial. However, an incident with a young boy inspires him to take up the case.
23
Vijay buys the building where his mother worked when he was young.
Classic case of "high" before the low! – Second false victory for Vijay
24
Ravi and Vijay have a face-off in front of their mother. Ravi asks him to surrender by signing on the confession. He famously asks, "bhai tum sign karoge ya nahi"

The word Deewaar is introduced for the first time.

Mother decides to leave Vijay alone and moves out.
25
Vijay back to Anita. She mentions that she wants to settle down and get married.

The mother on the other hand tells Ravi that she loved Vijay more than she loved Ravi.
26
Ravi continues his crusade against Dawar and Vijay. To a point that the gang starts thinking about eliminating Ravi.

Vijay opposes the ideas and admits that Ravi is his brother.
27
The two brothers meet at the bridge where they grew up. Vijay asks Ravi to back out from the case – arguing that because of his dirty work, Ravi could get educated!

The iconic, "mere pass maa hai" is showcased.
Refusal to return
Vijay has yet another chance to surrender, but he refuses to give away everything he's earned in the new world.

He is refusing to go to his original world.
28
Anand is found dead on a train. Ravi realizes it is their father when he is filing the report. He finds a picture of the family being held as hostages.

Ravi stops his mother from putting sindoor.
Such amazing symbolism!
29
Ravi lights the fire to his father's dead body, as Vijay watches from a distance – he is still wanted by the cops!
30
On a call recording, Ravi finds about a meeting where Jaichand is present and leaves right away! Ravi arrests Jaichand and makes him confess about Dawar and Vijay.

Ravi arrests Dawar. However, Vijay manages to run away and goes into hiding.

On the other hand, Samant vows to avenge the loss in business by killing Vijay before the cops could arrest him.
31
Vijay gets to know that his mother is unwell and wants to meet her. He however can not as the place is swarming with cops.

Vijay is lost and doesn't know what to do.

He goes to the one place which he never would have – the temple his mother frequented. We hear "aaj khush toh bohot hoge tum…"

Maa miraculously gets better. She visits the temple, where the priest tells a shocked mother that Vijay was there!
Atonement
Vijay realizes that he has dragged himself too deep into this new world and escaping is impossible now.

But he does want his mother to get better. This entering the temple is his atonement!

In Prof. Campbell's journey, atonement happens before the refusal to return. We see the sequence slightly altered, but the concept holds.
32
Vijay gets to know that his mother is now home.

Anita announces that she's pregnant.

Vijay decides to get married to Anita and surrender. He also tells his mother to wait for him at the temple.
Crossing of the return threshold
Because of Anita, he has a reason to give up everything and go back to the original world.

We find this a tad weak compared to all the imploration by his mother.
33
Anita however is kidnapped by Samant.

Unknown to Vijay, who in a separate meeting is being told of a plan to escape. He tells his gang that he would not go along with them.

When Vijay comes back to Anita, he finds her dying. She in fact dies in his arms. He discovers that it was Samant that had hurt Anita.

Vijay storms into Samant's hideout. He kills Samant's flunkies but Samant is not there.
34
Ravi gets to know that Vijay is on his way to Samant's other hideout.

He and other cops surround the building. However, Vijay is still able to kill Samant by throwing him off the top of the building.
35
Despite all the cops, Vijay manages to escape, with Ravi chasing him.

While running, his lucky badge falls off. As Vijay tries to retrieve it, Ravi comes in close and shoots at him, injuring him.

He however gets in a car and drives the car into the temple. He eventually dies in his mother's arms!
Master of the two worlds
At this point, Vijay has conquered the two worlds – he has realized that his path of getting the respect that he craved, actually took away from his family.

Even though short-lived (since he died right after), he is briefly able to earn his mother's respect too.

The symbolism of the lucky badge is reinforced for at least the third time!
36
We go back to the opening scene where Ravi is getting an award. The film ends with a thundering applause.
So, there!
Even though NOT all stages of the Hero's Journey are evident in Deewaar (they weren't evident in Munna Bhai MBBS either), the story clearly follows the structure. Enough to warrant an investigation and research!
That's it from our side. Please do give us feedback on our interpretation.
Also, should you want the open files and notes that we made that we have not published, please email us and we'd be touch. We have Deewaar's script broken into a beat-sheet (our interpretation and may not be right), and various stages of the Hero's Journey, as adapted for Deewaar. Happy to share those!
Oh, a disclaimer for the millionth time – these are our interpretations and could be incorrect. This is merely an academic exercise to learn more about Hero's Journey! Do help us.
That's all folks!
So, that's about it from us! Let us know what you think.
Hemant + Saurabh
Nov 2020
Oh, one more thing. Please do let us know what next film we do this deep dive on.